My Boys
*~*~*~*~*~*~*~*~*~*~*~*~*~*~*~*~*~*~*
Reighleh Ross Willson
"Baby, I'm sorry, I didn't mean to be so nice, to care so much. To love you ."
Age/Birthday:
17, January 6th
Gender:
Male
God Parent:
Khione
Claimed: Yes or No
Reighleh turned 14 the day after he was sent to camp by his father. On his birthday he was walking down the creek in the frozen winter when he was hit on the head by a snowball. A glowing snowball in which didn't fall of bu floated up and morphed into Khione's symbol. This caused the newbie to panic and fall into the icy creek, of course this only made him wet.
Mortal Family:
Tyler Willson. Tyler was a pro hockey player, he lived in Maine and separated himself from his family. He was very narristic and choose to prove himself as serpeior to everyone else. At one time he said 'Only a god is worthy of me.' At one point in his career he met an unknown figure skater. They had a one night stand and she left him in the morning. A while later she dropped off the child on his front porch with a note, a name, and a simple good luck.
Years in Camp:
3
Brief History:
As Reighleh grew up with his father he had to deal with a different women coming into his life every few weeks and always trying to act like his mother. He was always polite and left straight into his room where he read about a prefect life. He never once in his life felt cold. He went to everyone of his dad's games and inheriting his father's height and build he was a handsome boy but he was a flirt so didn't use it to his advantage. Being a very trusting boy he would do anything if they said please, thus he has gotten in trouble often for covering for someone. Although he knows his morals and wouldn't do something really wrong.
Physical Appearance:
Reighleh Ross. That name was defiantly mentioned every time someone discussed the most attractive guys in Carter Moss High School. Since Reigh started going to camp the summer of his 8th grade year, when he came to high school the already toned boy had gotten more muscle mass. He's lean frame started to fill out better and his height caught up to him. He had never became buff though, not ever to big but defiantly star football team member material. But of course he was a hockey dude. Ross has a narrow bone structure on his face and a slightly covered nose, high cheek bones and plump lips give him a d nice look that his half rimmed glasses seemed to accent. Bright golden eyes with striking grey blue specks were framed by thick lashes and his best part. His very choppy, uneven, blond, scruffy hair that was amazingly soft. It was easily spotted in the hallways and nearly always talked about.
Personality:
Reighleh is a big sweet heart. Although he is sensitive he doesn't like to show it to much in case they try to manipulate it. He is a bit of a book worm and often has he nose pressed into a book. Reils does know how to cheer someone up and likes to goof off around people to make them smile. He can be violent and chooses to force some people before reason this is something that he's father installed in him. Reigh loves kids. He would never hurt someone unless there was reason and can become protective of people. It's like he's angel and demon fight against each other always.
Fatal Flaw:
His fatal flaw is easily the fact he trusts much to easy
Pets:
None
Talents:
• He has slight control over his ice abilities.
• He can be nice to any unless there being mean
• Great accuracy with Bow and Arrow
Weapons:
Bow and arrows that have ice caps on the ends. He couldn't hurt something once he got close enough to see there faces.
Year-Round or Summer:
Summer
Other:
His fatal flaw is easily the fact he trusts much to easy
*~*~*~*~*~*~*~*~*~*~*~*~*~*~*~*~*~*~*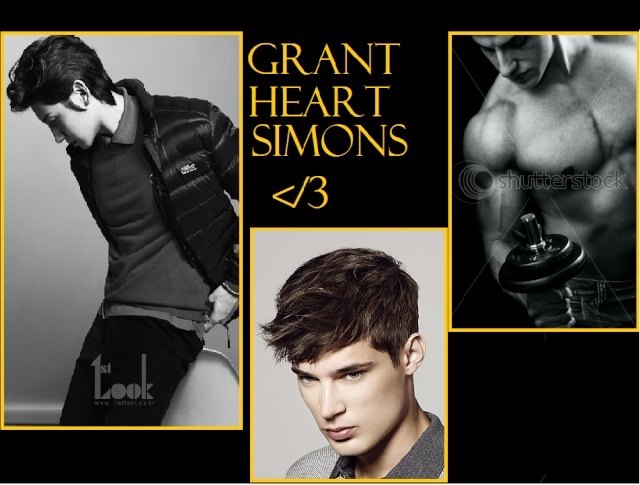 Grant Heart Simons
"Oh. Are you staring at me? I know I'm hot but most people watch me more discreetly."
Age/Birthday:
16, October 3rd
Gender:
Male
God Parent:
Aphrodite
Claimed: Yes or No
Aphrodite was not slow in claiming her son. She claimed him on his 14 birthday and gave him a weapon, He wasn't ever attacked until he was 16. Actually on his birthday at a party, the new football co-star had turned into a troll thing and attacked Grant who had little trouble destroying the 'ugly, smelling, beast." Afterwards he was attacked a few more times until his dad tired of it and sent him to camp.
Mortal Family:
Nikolas Simons. Simons was a British model who was transferred to America for a role in a movie. Simon's wasn't the best actor but one charming smile from this Casanova and you completely forgot about it. He was tall, dark, and handsome with a voice like honey and a personality like venom. He met his match when Aphrodite decided she liked him. Of course she left him with the child and went on her way.
Years in Camp:
0
Brief History:
Grant was raised back and forth between California and London. He'd go with his father between the two until he turned 10 where his dad settled in Malibu. He grew up in the town and by the end of Freshman year broken about 13 different girl's hearts. He thought himself better then anyone and looked down upon everyone. He did this because he had left his best friend Maya from England and decided if he could have his heart broken then others could to. He believed in love and said. "If I love someone then I couldn't break there hearts so no worries." It was something he thought weather other seen it this way or not.
Physical Appearance:
Tall-Dark-and Handsome had a child with Aphrodite and Grant does not disappoint. He keeps his hair short in the back but it flips up some in the front. He has strong cheek bones and a smooth complextion that looks wonderful on his creamy skin and straight nose. He's body is buff and strong from his football games and during off season he does weights. He does have freckles over his chest and arms but there light and he finds them well placed. He doesn't use a lot of gel for his dark wood colored hair. He has deep hazel eyes and long limbs giving him a strong appearance. Though only 5'9 and 153 pounds he's not as intimating as his ability to turn everyone against you.
Personality:
Are you looking for a nice, sensitive, sweet, understanding boy? Look somewhere else. He's about as nice as a snake. Under everything he knows how to be nice and sweet but to the ones he doesn't know he doesn't care. It about being distant from others so you don't get hurt. He doesn't like people who try to tell him what to be like and since most girls suck up to him and always throw themselves at him he never finds any of them worthy of him. At the end of the day, under everything he's afraid to lose someone he cares about. And if it doesn't affect him he doesn't care.
Fatal Flaw:
His fatal flaw is his lack of trust
Pets:
He has a cat named Bello. It was a parting gift from Maya. It's a soild grey cat with large gold eyes and thick fluffy fur then shimmers when he moves turning different shades of silver.
Talents:
• Can talk people into taking his side
• Natural talent with a sword
• Charmer
Weapons:
He owns a sword his mother gave him named Kleh Its so reflective it's dizzying. He often checks his reflection in it. Sometimes he prefers to just clean any blemishes off of it.
Year-Round or Summer:
Summer
Other:
*~*~*~*~*~*~*~*~*~*~*~*~*~*~*~*~*~*~*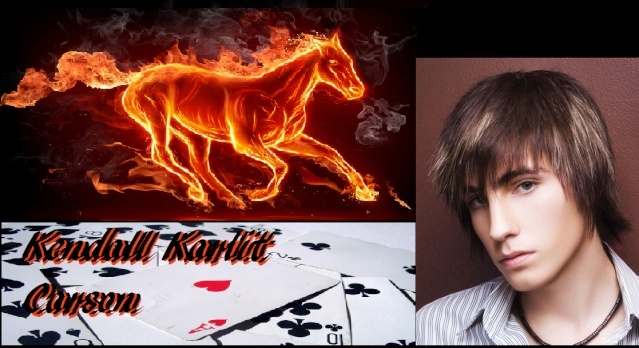 Kendall Karlt Carson
"I'm a bit of a fire bug, yes, but it proves something. I'm destructively hot."
Age/Birthday:
15, May 1st
Gender:
Male
God Parent:
Poseidon
Claimed:
Like most big three kids Kendall was sort of ignored for the best. He was forced to be claimed of course and even Poseidon didn't really want to claim Kendall then. Carson was on his sixth week of finding out he was a demigod and already out of camp. He was talking to his sister and his Grandma that attempted to keep a watch on Kendall. Kendall was complaining again about not getting claimed. In the middle of his rant Poseidon claimed him just to shut him up, but it didn't.
Mortal Family: First and Last Name/s
Mother
Stephanie Carson/Ralts. Emily has always been a happy-go-lucky person with few worries and fewer problems. Being a happy person who enjoys being around other people it wasn't surprising Poseidon didn't fall for her happy sense of humor and her charming personality. Never really being a dull person she had stayed an extremely entertaining with actions or words. Even though Poseidon left her with child she was more then thrilled to have her first baby. When Kendall was born she started dating but being a good mother she would sometimes bring her baby boy with her. Kendall loved his mother and would fight the world for her.
Step Father
Daniel Ralts. Danny was a fun loving family man. Working as a stand up comedian he traveled America telling jokes. One night when doing a show in Vagas he ran into a women after the show who had gotten lost. Talking to her for over an hour and laughing more with her then he had with anyone else he asked her out on a date. The date turned to two, then three, then ten. Keeping meetings more casual and more often she meet his family, he meet hers within a year the two were married.
Half Sister
Emily Ralts. Emily was born a year after there marriage. Emily is two years younger then Kendall and she was a great joy for the whole family. Having some of the most fun loving people as her parents it's no surprise that Em was also a fun person. Being a light hearted gentle person she hardly ever stopped smiling in fact her friends told her she probably smiled in her sleep. Emily was very close to her brother and still are. If anything the cute blond headed girl was protected like a diamond by her older brother.
Grandma
Monica Carson was a very stressful and angry person. Keeping her head high despite small size she would often keep people in line with her sharp tongue. Although she was a strict person she was also fun loving and exciting. When she had to take in her grandchildren she was more then happy to deal with her bright kids.
Years in Camp:
He went to camp last summer but left as soon as summer ended and as reluctantly headed back though only by force from his grandmother and as punishment.
Brief History:
As Kendall lived his nice happy nearly perfect life if he were the person to listen to others he would of heard the saying 'nothing stays perfect.' On April 21st Kendall's parents went off on a trip for his dad's work. That day the plane crashed. That day Kendall and Emily became orphans. Kendall was about 13 and Em about 11. They moved into their grandma's house and although both crushed by this they all tried to cope with this differently. Kendall became a troubled teen. He found solace and an interesting form, Fire. Fire comfort him, it was destructive and left little behind. But destruction is the first step in creation. Finding himself staring at candles in his grandmas home more and more, he felt as if it was alive. Soon enough he stanched a cigarette lighter from a local store. He never seemed to have much anger but he didn't smile much anymore, never laughed and rarely ever talked for to long. One day he lost his cool, after being aggravated and teased by some local bullies he took a lighter to his old home. So felt like, if it was gone there wouldn't be something to remind him. So down the house went. Police filed charges to his now impressive amount. This wasn't he first arson in fact it was the third major building he had burned down along with several shacks and trees. He grandma sent him to camp the next day and told him he had to stay all summer before she would allow him to visit and based on how he acted rather or not he'd be aloud back. He also took to playing cards.
Physical Appearance:
Carson is an handsome young man. At a healthy 5'10 and 140 pounds he was lean with light muscles and smooth skin. He has a smooth face with a soft but defined jaw line and thin light pink lips. His smooth cheek bones give him a soft look that is thrown off some by his straight nose. Almond shaped eyes are the color of the deep sea and light eyelashes aren't to noticeable by his slightly bushy eyebrows are hidden under a fringe of brown hair. His shaggy, yet straight hair is naturally dark brown but he has blond streaks dyed into it. Around his neck he tends to were leather or bend necklaces but that's about his only jewelry. He has a small scar on his jaw and several on his arms.
Personality:
Although Kendall has always been prone to over reaction his light hearted parents taught him to take life in stride and find a different way to deal with life then anger and Kendall never shows his anger in violence or anger, instead he just burns things. He now writes everything that bothers him onto sheets of paper and burns in a can. He always throws the ashes away into the wind. He tends to be a very laid back person and likes to make jokes. Being a deep thinking person he can often surprise people on how gent manly he secretly is. The reason he is so cool about stuff is because he can easily block out people and doesn't have trouble unless it happens often then it builds up like it would anybody else. Also protective of anyone who he becomes attached to. He isn't afraid to lose someone like most kids in his situation would be, he's afraid to have the chance to save them and doesn't because he wasn't there. If he feels stressed he shuffles his cards, shuffling and organizing his cards are a way to make him feel he as control over who he can do. He is secretly driven for control. He needs control before he feels he is safe
Fatal Flaw:
He's fatal flaw was have to be his need for control
Pets:
Kendall has had one pet his entire life, it was a fish named Mr. Gillis or Mr. G for short. It was a gold fish that died when he was 8.
Talents:
He has better control over storm clouds then normal water or earthquakes. He can somewhat poorly make a small personal rain cloud. He's is especially skilled in his ability to control the air pressure. He can lower or raise it causing some people to fell odd but more often changing how something may work. His fire will burn differently also. Pretty amazing shuffler.
Weapons:
He has a silver pocket lighter that has a mix between Greek fire and firecracker powder. He will take cards and light them with this and it will soak into the card and then it will explode. He only uses this in specific though any other time he uses a thin carved bladed sword.
Year-Round or Summer:
Summer
Other:
Kendall often has dreams about a flaming horse, he doesn't know why or how it is
*~*~*~*~*~*~*~*~*~*~*~*~*~*~*~*~*~*~*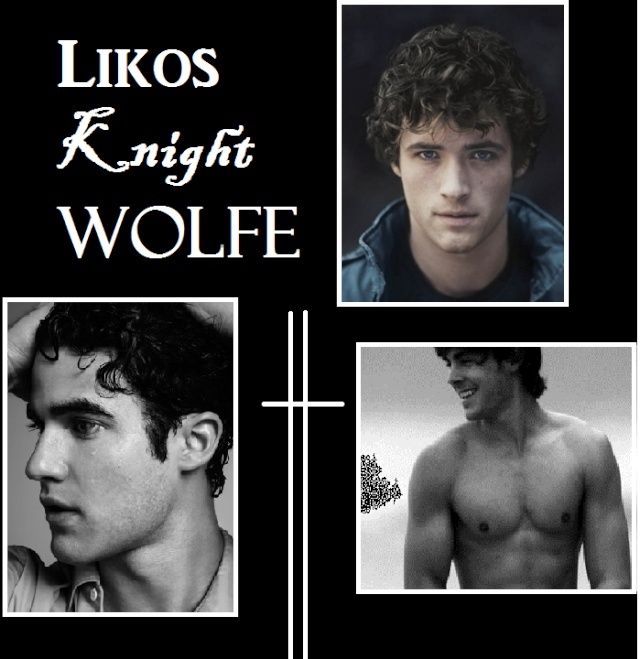 Likos Knight Wolfe
"I should run, I should hide, but your to great for me to deny."
Age/Birthday:
20, December 22nd
Gender:
Male
God Parent:
Nyx
Claimed:
Likos was claimed when he was 10, However as he was dying at the moment Nyx asked Artemis to help save the boy since she had good ties with Zeus who would of disapproved. Artemis however doesn't like boys but since he was young she turned him into a wolf but saved him. Nyx accepted this and fuzzed his memories sending him to watch over a new rather powerful daughter of Nyx. For nine years he was practically a servant for her, doing as this when one day Nyx decided he should return to his human form. She changed him back and although not completely pleased Artemis grudgingly allowed this.
Mortal Family:
Father. Gerson Ryan Wolfe
- Gerson was an royal descendant, and as he grew up he and his brother desided they wanted to make there own future. So after 10 years of hard work the Spanish duo became the owners of a resort spa and investment company, millions and millions each year the two guys were close and rarely fought and when Gerson fell for a visiting beauty from Greece he could help himself, Mastro was wary of the relationship being able to see through mist but kept quite. After his death he left his money to his son Likos.
Uncle. Mastro Wolfe
- Mastro was a kind man, and still is. He was the less reckless of the two and the younger, He always tried keeping his brother, and later nephew in line. Being serious and hard working he managed the finance of there companies and let Gerson handle designs. He is tall with dark hair the was turning grey with age and smooth and wave not extremely curly like his brother. Dark brown eyes and laugh lines he looks a lot like Likos.
Years in Camp:
10
Brief History:
Likos was raised with his aunt and uncle after his father was killed. Living in a large mansion in Spain he learnt fluent Spanish. But by the time Likos was ten he was going on a trip to America with his uncle. Unbeknownst to them they were being stalked. The murder, who wanted the Wolfe fortune was planning on killing the child. When they got a hold of him in upper New York they almost killed him, stabing him in the chest and fleeing.
Soon after he became human again. he meet Belinda. Bell became his best friend and later girlfriend. His uncle tracked him down by mail and invited him back. Thinking that he dead for many years he'd not bothered but he had also been able to see through mist and when a message from a mystery caller told him otherwise he brought his nephew back for a few weeks. After awhile he moved back to stay in Spain and try a hand at his father's work. He however lost Bell and has returned to find her.
Physical Appearance:
Likos is a nice looking Spanish man. He stands tall at 5'11. Even though he's not the tallest guy in camp he might be one of the fitist. He's buff with muscle and it wraps around his body in lean, sleek, defined tones. His skin is a slightly tan color, a little creamer color then most Spaniards. His skin is rather smooth and his large tough hands are rough yet so tender. He has a tattoo on his upper left arm that reads 'Λύκος' and he often wears set of dog tags with names engraved into them. He's arms are long and his torso is longer while his legs are a little shorter. His face structure is handsome but discreet. His jaw line has a soft yet steep curve the compliments his defined cheekbones and sturdy set eyes. Under his left jaw there is a serious of small scars barely see able and over his body are more scars to add. His teeth are even but his canines are a little sharper then they should be, he's fine with this and of jokes that fangs makes him sexier. He has a square face, thin lips, and slightly bushy eyebrows. His hair is a very defining trait among the Wolfe men. His is the normal dark smooth brown color with hints of lighter reddish shades in the sun and locks of his hair often curls up unless he cuts it short and spends time and effort trying to make it straight.
Personality:
He can seem to be unfriendly, or even antisocial, but he just tends to avoid people. He doesn't fit in with everyone, and it doesn't bother him. He really enjoys to talk with others and can be a very nice guy. Loyal and a good friend, but often has problems keeping himself in check and may do something random like talking with someone and stop in the middle of the conversation and walk away without a word. . He enjoys nice long walks through the forest and the smell of red wine, he doesn't like being serious, however he finds himself being a very serious and protective person. He wouldn't give it a second thought to defend someone. Now that he has opened up more to everyone he is nicer and more popular, but he still isn't friends with many people. After much thought he can give good choices but Likos is a patient person and will notice if something is off right away. He can be rather selfish and uncaring at times but this isn't a common side and usually only comes out when he is in a bad mood. With a good sense of humor and somewhat romantic he prefers for things to just happen and doesn't really care what happens if no one isn't hurt. He will hunt down someone like prey if he feels they are a threat, due to being a wolf for so long he still can be somewhat savage and rowdy, not that this is always a bad thing. He often restrains himself and his very completive nature this does slip out sometimes though. No matter what happens he is understanding and adapting, few things faze him, one however is simplicity, it just doesn't work for him.
Fatal Flaw:
Rash. He acts on his first instinct most of the time
Pets:
He doesn't have time for a pet, he'd like a dog though.
Talents:
After being a wolf for so long Likos kept a few traits and they have dulled over time but are still much sharper then a humans. His sight is average though. He is able to see in the dark and has a small bit of control over the shadows but not to much. He can be very resourceful and his ability to make people angry so quickly should be considered a talent. He also is a fluent speaker of English, Spanish, and Greek.
Weapons:
He owns a self made weapon that is very unique, it's about 3 feet long, and on one end is wrapped in deer leather, the other in is like a sword, but ragged, and has chilling effect of touched your weapon and causing it to turn cool. It also has a nick in the top shaped like a crescent moon, that makes people seem to eye the sword, because the moon shifts, changing from full or gone, every night.
Year-Round or Summer:
Year round, however had to return seeing he was living in Spain
Other:
Been working of Likos for two years also