I posted it here, cause it was too long on the other 1 (srry 4 double posting!!)
(New)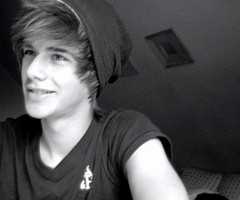 Name: Birch Gonzalez
Age/Birthday: 15
Gender: Male
God Parent: Phobus: God of Phobias
Claimed: Yes
Mortal Family: Audrey Gonzalez (Mother), Brenda Gonzalez (Sister, Demigod, Deceased)
Years in Camp: 2
Brief History: Birch has always been creepy. He has always been creepy, but popular at the same time. How? Because he was handsome, athletic, and a heartbreaker.
Birch had had a good life. His mother had plenty of money, and he had a pretty good school life. His twin sister Brenda was his best friend, and he loved her more than anything. But when Birch was 10, something happened that would change his life forever.
Birch and Brenda had been walking home from school, when a truck drove up with a man and a woman. The man (who was in the passenger side), asked if they needed a ride. Brenda, being the sensible one, said no, they were fine walking. But Birch had wanted a ride. Brenda and Birch fought for a while, oblivious to what was happening around them. The man jumped out of the car, and grabbed Brenda. He threw her in the truck, and the woman (who was driving), floored it. Birch chased after them for about an hour until he had blacked out.
Birch went home, and five weeks later, Brenda's body was found. She was dead.
After that, Birch went into depression for 2 years. When he was out of it, he became the most popular, but yet feared, boy in school. He always has a girl to fill in the space of Brenda, but he gets bored, because none of them suffice.
And also, after that, a fear took part in him, and grew until it affected him greatly. It keeps him from doing many things, but he still acts like himself.
Physical Appearance: Birch is quite attractive, with a smile that lines his face perfectly, and cheek bones that make his face gorgeous, and standout-ish. He had long, dirty blonde hair, and magical hazel eyes. He is very muscular, but doesn't look it. He likes to wear a navy blue Aéropostalé shirt, and plain blue jeans. He wears a navy blue beanie hat to match his shirt, and dark blue and black checkered shoes. He has a black dog tag necklace and a black survival bracelet that morphs into his whip.
Personality: As said above, Birch is a heartbreaker, but also a bit creepy. He is creepy because he knows people's fears, and when they're afraid. He uses it against people, and people fear him for that. But, he's popular because he's so attractive, and he has had many girlfriends. He has not yet found a girl who can fill the space in his heart for Brenda, and it shows if you get deep enough. But, he is arrogant, cocky, and overall has swagger. He is also a do-it-yourself kind of guy. He doesn't take help unless he knows he needs it. He never lets his emotions show unless he trusts someone wholly, or you hit a weak spot.
Fatal Flaw: Afraid of Dying
Pets: None
Talents: He is amazing with his whip, and his small dagger. He can also tell people's fears, and when they're afraid.
Weapons: His long leather whip, that when it hits you, wherever it hits you, you become paralyzed in that spot. It doesn't kill you, he has to finish you off with the small dagger he keeps in his shoe.
Year-Round or Summer: Year-Round
Other: None
Theme Song: "
Gives You Hell
" By The All American Rejects